Introducing the next-generation front wing for your 1:10 F1 car, designed for versatility, drivability and unmistakable style. The V2 F1 Front Wing features 3-way adjustability to suit any condition your track throws at you: a low-downforce option, a medium downforce with 1-element add-on winglet, or a high-downforce, 2-element add-on winglet for maximum steering feel.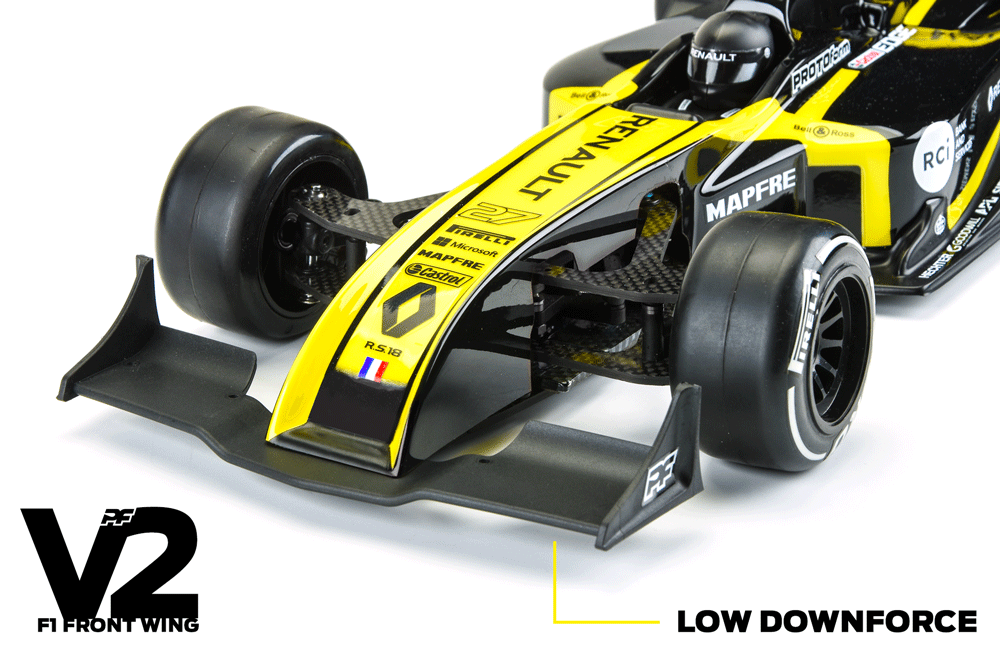 The tall wing endplates enhance straight-line stability and side-bite in long sweepers. Inspired by popular American open-wheel cars from the late 90s, we also incorporated additional ground clearance at the outer extremities, especially important on U.S. style high-grip carpet. A wide, flat section in the middle of the wing provides a perfect mating surface for any F1 body.
The wings are made from sleek, matte-finished, ultra-durable nylon and will fit most popular F1 cars on the market such as Xray, AE, Tamiya and Roche. They are available in Black colour now, with a white option coming soon.

Protoform V2 F1 Front Wing (Black) For 1/10 F1 Car Features:


3-way Adjustable Design with Add-on Winglets


Matte Black Finish (White coming soon)


Additional Ground Clearance


What's Included:


V2 F1 Front Wing (1 pc)


Medium Downforce Winglets (2 pcs)


High Downforce Winglets (2 pcs)


M2.5 x 6 screws (4 pcs)


Please note: Body in photo not included.