Committed to the design and production of cutting-edge scale model aircraft, FMS has dedicated an extraordinary amount of effort in the design of the Yak 130 V2 to ensure that it'll also be at the pinnacle of model aviation. Finding a balance between scale and performance has always been a challenge, it took numerous prototypes, test flights and modifications to refine the Yak 130 V2 into its final form. FMS is confident that this is the most accurately defined Yak on the market today.
Small details such as the plastic leading edge of the air intake, which reduces turbulent airflow and protects the air duct from debris, are implemented onto the airframe. The panel lines, cockpit interior, scale pilot and even the auxiliary fuel tanks are made with significant attention to detail. Even the way the aircraft is assembled has been optimized- with a screw-together airframe, it's now possible to build the Yak 130 V2 in the time it takes to charge the flight battery.
Utilizing the FMS 70mm 12-bladed EDF unit, Predator 2860-1850KV motor and an upgraded 80A ESC, the Yak 130 V2 has more than enough thrust to tackle the most demanding of manoeuvres. A Strong upgraded metal landing gear set provides added support and strength to absorb the impact of less-than-perfect landings. All servos are pre-mounted and are optimized for this aircraft, ensuring absolute reliability and manoeuvrability.
Don't settle for any less than the best- FMS Yak 130 V2
---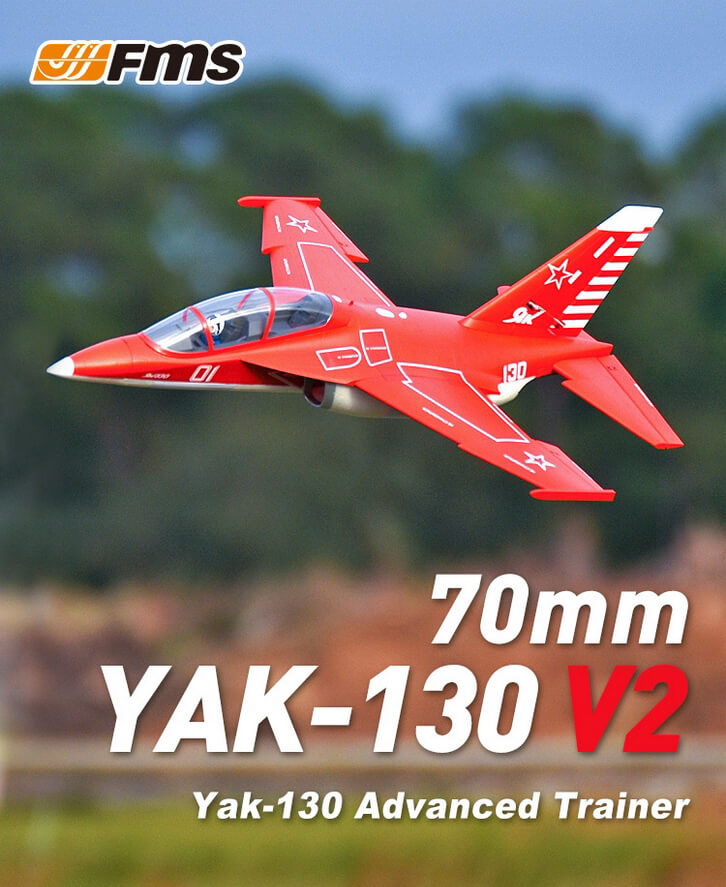 FMS YAK 130 EDF 70mm V2 Features:


Upgraded and detailed metal landing gear set for added support and strength


Metal-geared servos for precise and accurate control surface movements


Scale details - pilot figure, auxiliary fuel tank, retractable landing gear and flaps


Retractable landing gear system


Fully functional flaps, ball-linked control horns for precision manoeuvres


Latch-type canopy for simplified assembly methods


Water-based, environmentally-friendly paint for more vibrant colours


70mm 12-bladed fan provides high power-to-weight ratio


Spec Check:


Wingspan 880mm / 34.6in


Overall Length 1060mm / 41.7in


Flying Weight Around 1850g


Motor Size Inner running Brushless 2860 KV1850


ESC 80A


Servo 9g x 8


Radio 6 Channel


CG (centre of gravity) 80-85mm (From Leading Edge)


Prop Size 70mm 12-bladed fan


Recommended Battery 6S 22.2V 3000mAh 35C Li-Po


Aileron Yes


Elevator Yes


Rudder Yes


Flaps Yes


Retracts Yes


Minimum Age Recommendation 14+


Experience Level Intermediate


Recommended Environment Outdoor


Assembly Time 30 minutes


Material Durable EPO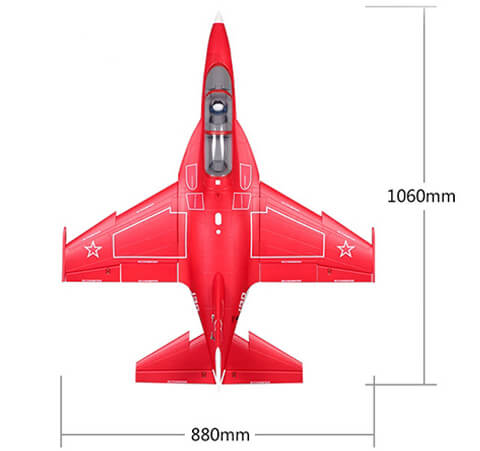 Please Note: This kit requires the following for completion: 2.4 Ghz Radio System, 6S 22.2V 3000mAh 35C Li-Po Battery and Charger.